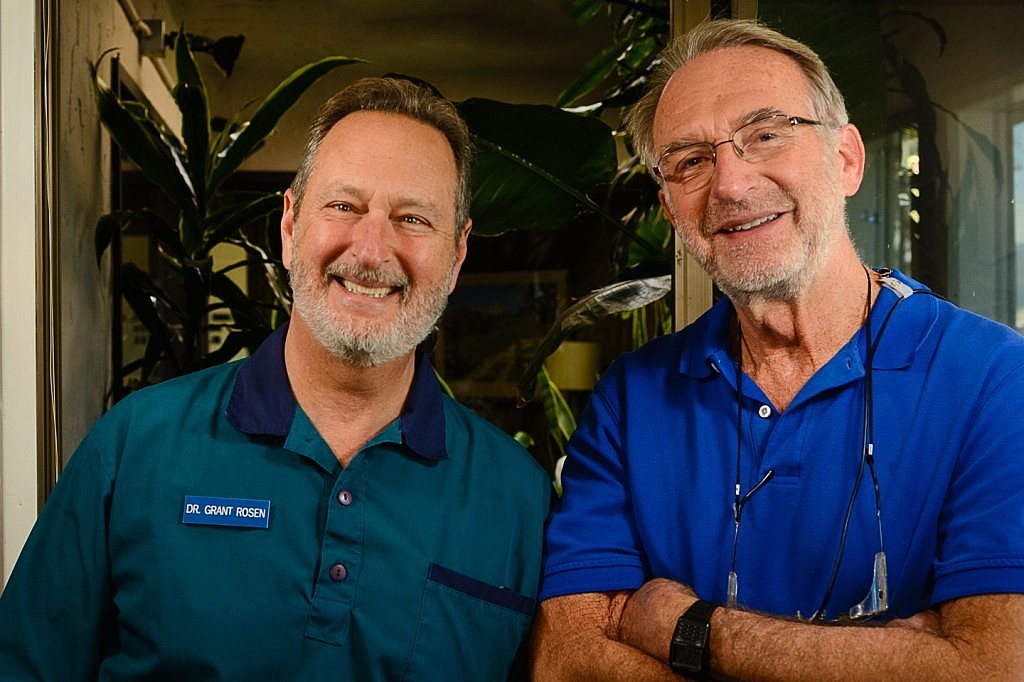 Dr. Grant Rosen knew from an early age that dentistry was his calling. After completing his undergraduate studies at UCLA, he graduated from the University of California, San Francisco, School of Dentistry. His next calling was to settle in Salinas, where the incomparable beauty and relaxed lifestyle of Monterey County proved irresistible. He and his wife, Melanie, raised their two daughters here, as well as various dogs, fish, rodents and amphibians.
If Dr. Andresen is the athletic stud-muffin of the pair, then Dr. Rosen is the musician. He has performed professionally with local symphony orchestras, chamber ensembles, concert bands and theater groups. He has also served on the Board of Directors of Ensemble Monterey Chamber Orchestra, as well as the Monterey Bay Dental Society. Other favorite activities are cycling and hiking, camping and backpacking, ocean kayaking, photography and building fine scale models. Professional memberships include the American Dental Association, California Dental Association, the Monterey Bay Dental Society, and the American Academy of Dental Sleep Medicine. Seems like he's had a lot of callings since settling down in Salinas, and he couldn't be happier, or more filled with gratitude.
As our reviews attest, Dr. Rosen shares with Dr. Andresen an unshakeable commitment to the highest possible standard of care, where honesty, excellence, comfort and trust are the pillars upon which our practice stands.
Dr. Dennis Andresen graduated from the University of California, San Francisco School of Dentistry in 1967 and began practicing in Salinas. Raised on a farm in the San Joaquin Valley, the cooler Salinas Valley area was appealing to his rural roots, and the Gabilan and Santa Lucia mountain ranges added visual impact.
During his time at UCSF, he lived in the midst of the Haight-Ashbury at the height of its heyday and saw Janis Joplin, Big Brother and the Holding Company, Grace Slick, Jefferson Airplane, and many others perform live down the street from his classes. Coming from a small farming community to the Haight-Ashbury was a "growing experience" for him. He, however, was obliged to keep his hair short and his rebellions limited to driving around in a lowered '59 Chevy Impala. He was becoming a dentist, after all.
He is a formidable triathlete, winning the old guys age group mountain bike Wildflower Triathlon three times, and is known for his awesome microwaved pizza. Most important of all, he and wife, Bette, have become grandparents to the cutest kid on the block who keeps Dr. Andresen fit chasing her around. He is very thankful for his great staff, who he credits for helping create a wonderful practice where he still looks forward to coming to work.
(09/21/2020)
More Information: https://mybestdentists.com/GrantDavidRosen
Views: 1,201