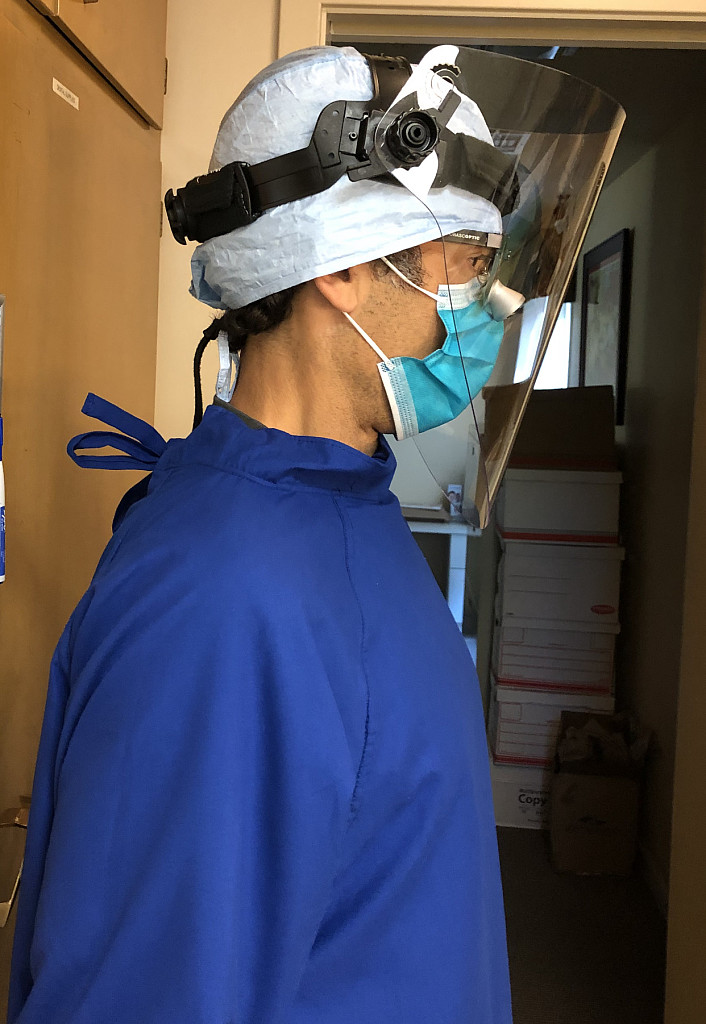 "I worked with Catherine, head designer for UjENA, to create a gown to help protect our staff and patients from COVID-19," says Dr Daniel Araldi (Dentist in Saratoga, California). "We came up with the idea of adding a collar for addeded protection. I got the sample May 14 and I loved it. I loved the fabric, the blue color and I ordered 13 dozen. I think I was their first dentist to order. They are working out great."
At least in California dentists need to change into a new gown for each patient. "I really like the fact that these gowns are reusable," says Dan. "Much better for the environment. And even through these cost a little more, in the end it will save me money."
The gown can be washed at least 100 times.
"The biggest challenge we have," says Bob Anderson (CEO and marketing director for PPE by UjENA) "is making these gowns fast enough. We have our factory working at top speed. We have sold and shipped out thousands (especially in royal blue) of our Universal Gown since May 14 and we have more coming in daily. We are adding more production people to keep up with demand."
"We are so excited to offer our gowns to dentists around the country," says Catherine Anderson, designer and production director. "Our feedback has been very good. The one issue has been trying to keep up with demand but we are working on that. This will continue to improve. We appreciate your understanding at this early stage of our new division. Be safe. We have your back."
Here are the product details: The PPE by UjENA Universal Isolation gowns are made with 100% Microfiber virgin non-woven polyester fabric. Each gown is hand-crafted in our own factories. While cutting, sewing and packaging the gowns, all of our employees are protected and safe.
The Univiversal gown is our most popular style. For added protection this design has a collar. These gowns are washable. They are sold in packges of one dozen units. One size fits all.
(06/22/2020)
More Information: https://www.PPEbyUjENA.com
Views: 1,467