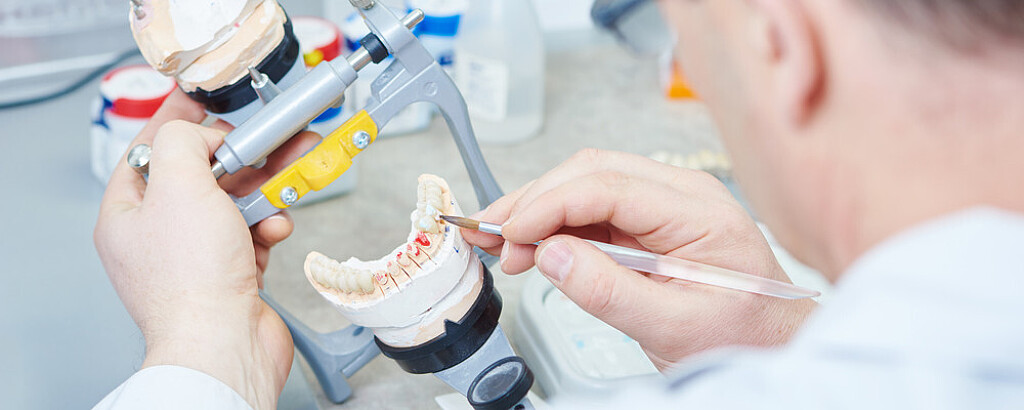 From eating great food to communicating to smiling – your teeth are essential for some of the most important things in your life. And you only get one set of adult teeth, so they're definitely worth holding onto.
But sometimes life happens and you may lose a tooth for any number of reasons. In fact, it happens often enough that there's a whole field of dentistry devoted to restoring and replacing them. It's called prosthodontics. If you have missing or damaged teeth and you've been referred to a prosthodontist, we'll let you know exactly what they do so you can feel confident they're the right specialists to help you restore your winning smile.
What Is a Prosthodontist?
Prosthodontists are dentists who have received 3 years of additional specialized training to perform more complex procedures to restore and replace teeth. They stay up-to-date with the latest tooth restoration and replacement technologies and are aware of all the factors that can cause missing and damaged teeth.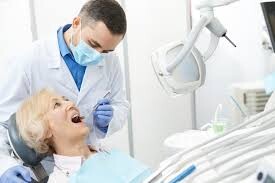 There is a multitude of treatments they are qualified to perform, but the three main types of procedures include:
The restoration of damaged teeth with crowns, veneers, or bonding
The replacement of missing teeth with bridges or dentures
And the insertion and restoration of dental implants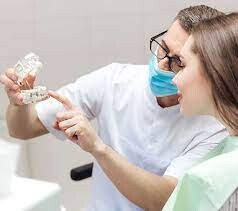 Interesting Fact: The American Academy of Implant Dentistry says that 3 million Americans have dental implants, and that number is growing by about 500,000 every year.
Some of their other areas of expertise include:
Geriatric dental care
Oral restoration for conditions such as cleft palates
Oral reconstruction for issues related to cancer
Maxillofacial (face and jaw) procedures
And even oral procedures to treat snoring and sleep disorders
A prosthodontist can work in tandem with every type of dentist, from your general dentist or pediatric dentist to oral surgeons and even ear, nose, and throat specialists when needed.
When Should You See A Prosthodontist?
Most general dentists can fit crowns, replace teeth, and insert implants, too, but prosthodontists are considered to have a higher level of expertise because of their additional training. So when should you see a specialist?
Your general dentist or orthodontist will likely refer you to a prosthodontist if you are experiencing complicated problems that involve surgery on bone and tissue, in addition to the more common dental work you need to have done.
You don't always need a referral to make an appointment, but beware that insurance companies typically require one to cover any of the cost of your visit. If you make an appointment for a prosthodontic procedure without a referral, you could end up paying out of pocket.
In any case, be sure to ask your provider about care coverage before your appointment.
What to Expect at Your First Appointment
Your first appointment will likely be a consultation so your prosthodontist can determine the best course of treatment. Before your visit, ask if they want you to bring X-rays from your general dentist if they have them. Whether you bring X-rays or not, they may need to take more while you're there. They will do a thorough examination, discuss your current dental issues, and give you an overview of the next steps based on your individual needs.
How to Prevent Tooth Decay and Tooth Loss
Gum disease is one of the leading causes of tooth loss. According to the Centers for Disease Control and Prevention (CDC), 47.2 percent of adults over the age of 30 have some form of gum disease. Luckily this condition is preventable by practicing good oral hygiene. Brush at least twice a day. Floss or clean between your teeth with interdental brushes or water flossers at least once a day; use an antimicrobial mouthrinse and a tongue scraper. Be sure to see your dental professional for regular cleanings and check your teeth and gums' health. If you notice any changes or sensitivity in your gums, don't wait until your next checkup – make an appointment with a dental professional right away.
If you've already experienced tooth loss or have any other conditions that you may need to see a prosthodontist for, these specialists thankfully have a skillset and a wide range of expertise to treat complex dental issues effectively. And while those issues that can lead to a prosthodontist referral may initially seem daunting, it can be comforting to know that you're in the hands of an expert specially trained to help you achieve a beautiful, healthy smile.
(10/12/2021)
by Colgate
More Information: https://www.colgate.com/en-us/oral-health/dental-visits/prosthodontics-how-this-dental-specialty-can-help-you
Views: 72